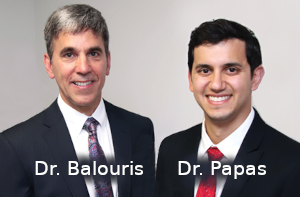 Welcome to Balouris Eye Center, PC, provider of the Butler community's medical and surgical eye care. The eye physicians at Balouris Eye Center, PC are board certified by the American Board of Ophthalmology.
Dr. Constantine A. Balouris is a western Pennsylvania native and trained at the Eye and Ear Institute in Pittsburgh. Dr. H. Robert Papas had his training at the Summa Health System in Akron, OH.


Surgeries such as no stitch, no patch cataract surgery are done adjacently at The Surgery Center at Benbrook.  Laser surgery for diabetes and glaucoma are performed in our office.  Both facilities are located at Benbrook Medical Center 1.
Comprehensive retinal services are provided by Dr. Rosenberg and Dr. Kondapalli of Everett & Hurite Ophthalmic Association.  They treat all conditions affecting the retina including macular degeneration, retinal detachment, and advanced diabetic retinopathy.
Eye Plastic and Reconstructive Services are provided by Dr. Randall Beatty.  He treats eyelid disorders and removes lesions of the eyelids and surrounding areas.
Our goal is to provide the highest quality eye care in a personal and comfortable manner.  Dr. Balouris and Dr. Papas and our staff look forward to serving your eye care needs.